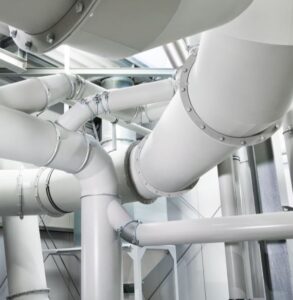 Firing Industries Ltd. supplies modular tubing products by Jacob, the world's top manufacturer in this field. Jacob's system behind every solution comprises top quality standards, an outstanding spirit of innovation, and an uncompromising choice of materials. As quality is a matter of course, innovation is how Jacob helps customers move forward.
Businesses around the globe get satisfaction from Jacob's deep knowledge of the industry, customer orientation, and more than 90 years of experience.
More than 8,000 standard parts
With international client support, excellent service, and 24-7 availability, Jacob continues to offer perfect modular tubing products that get the job done. More than 8,000 standardized parts are available in the company's diverse portfolio, with diameters ranging from 2¼ to 63 inches and wall thicknesses from 19 to 11 gauge. Materials used include stainless and mild steel, powder-coated or hot-dip galvanized.
Workers can use Jacob components to configure even the most complex tubing systems, and the company is also willing to custom-design parts that will allow users to connect these modular tubing products to existing systems and machines. These systems are condensate leak-proof, and the materials and workmanship are always at the highest level. This makes them ideal for applications in a broad variety of sectors.
A globally active company, Jacob has a presence in about 40 countries, with subsidiaries in Germany, France, Italy, the Czech Republic, the United Kingdom, and the United States; its products are available in Canada via Firing Industries. Jacob serves high-profile organizations as long-standing, satisfied customers in all industrial markets. Its goal is to expand this leading position and build on the confidence that clients place in it.
Due to the recent increase in the prices of raw materials, especially steel, Jacob's products were subjected to a price increase on April 15. Steel pricing is all a record high, and the average price increase across the manufacturer's product line is 6.72 per cent. In the meantime, Jacob is continuously striving to improve its processes to avoid or minimize price increases for its customers.
To learn more, contact Firing Industries' application-sales engineers at ddubuc@firing.com or (877) 688-0974.